Essential information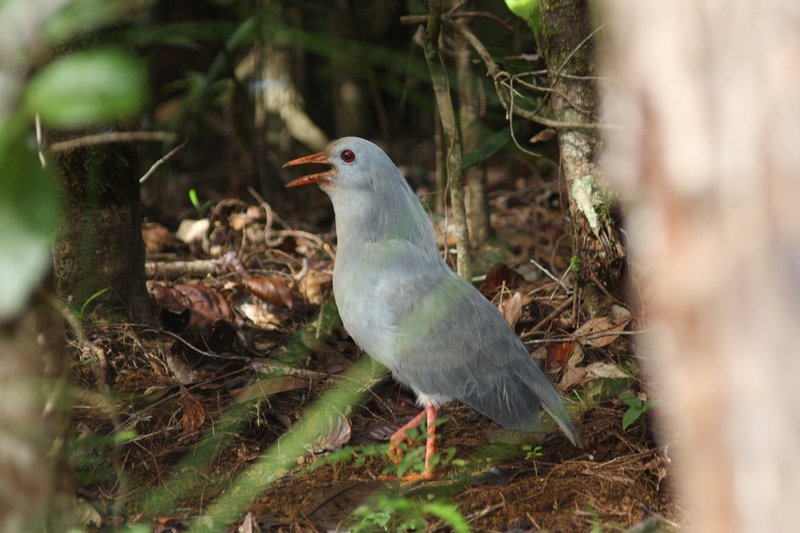 The extraordinary Kagu is in its own monotypic family and only found on the island of New Caledonia where, sadly, it is highly threatened. We visit the best reserve for this amazing bird on the Western Pacific Odyssey, a cruise which was largely designed by WildWings and for which we can take bookings © Chris Collins
PASSPORTS
For all overseas tours (also for all cruises within the UK) participants must be in possession of a valid passport. Ensure that your passport is valid for a minimum of 6 months after the end of your holiday.
Certain countries require that passports contain at least one blank page, while participants travelling on tours to - or transiting via - the USA should also be aware of the latest visa waiver, ESTA and immigration requirements. Please note that the onus is on you to check that you comply fully with all entry requirements and we recommend you attend to this at least one month prior to travel.
Wherever you are travelling, be sure to check the latest Entry Requirement details within the Travel Advice pages on the UK's Foreign, Commonwealth and Development Office website. Alternatively, contact the appropriate embassy or consulate.

VISAS
Some destinations we visit require visas and you will find outline details on the relevant webpage for your chosen tour.
Should a visa be required, for UK passport holders, our office will send you the necessary application forms and instructions how to complete them (usually about 8 weeks prior to departure). We regret that we are unable to apply or obtain visas for you.
Holders of non-UK passports are responsible for checking locally and organising their own visa and other entry requirements.
The rules for travelling in Europe have changed following Brexit, however, British Citizens can visit countries in the Schengen area or elsewhere in the EU for up to 90 days in any 180-day period without a visa.

HEALTH & VACCINATIONS
As tour operators, we cannot give health advice. It is very important that you are well-informed about health risks and issues in your chosen destination country before making your booking. The information given here and within our predeparture information is intended for guidance only and is only for certain diseases. You must consult your doctor in good time prior to travel as to what immunisations and other precautions are needed for your chosen holiday.
Have a medical and dental check-up before you go. For travel everywhere (even within the UK), we recommend you check you are up-to-date with protection against tetanus, polio and hepatitis A.
For some tours, protection against typhoid, TB, yellow fever and diphtheria is also advised, and you may need to take anti-malarial tablets. Our Travel Info sheets (sent to all who book) will outline the main health requirements specific to that tour but we recommend contacting your GP Practice for their advice.
At least 8 weeks before your trip, check the latest country-specific health advice from the National Travel Health Network and Centre (NaTHNaC) on the TravelHealthPro website. Each country-specific page has information on vaccine recommendations, any current health risks or outbreaks, and factsheets with information on staying healthy abroad. Guidance is also available from NHS (Scotland) on the FitForTravel website.
General information on travel vaccinations and a travel health checklist is available on the NHS website. You may then wish to contact your health adviser or pharmacy for advice on other preventive measures and managing any pre-existing medical conditions while you are abroad.
Be aware that the legal status and regulation of some medicines prescribed or purchased in the UK can be different in other countries. If you are travelling with prescription or over-the-counter medicine, read this guidance from NaTHNaC on best practice when travelling with medicines. For further information on the legal status of a specific medicine, you will need to contact the embassy, high commission or consulate of the country or territory you are travelling to.

YOUR SAFETY & TRAVEL ADVICE

Risks to your safety and security are an unavoidable aspect of all travel. The best advice on current risks is provided by the UK's Foreign, Commonwealth and Development Office (FCDO) Travel Advice unit. We strongly recommended that you refer to the relevant FCO Travel Advice both prior to booking and regularly before you travel. Go to: https://www.gov.uk/foreign-travel-advice
'Travel Aware' - staying safe and healthy abroad - is a travel safety campaign run by the FCO, and another useful resource well worth checking out if you travel abroad. Go to: https://travelaware.campaign.gov.uk/

TRAVEL INSURANCE
Good travel insurance is ESSENTIAL before setting off on any overseas trip. In common with all responsible tour operators, it is a condition of booking that all clients are fully and adequately insured before travelling overseas with us.
Be aware that some destinations may require you to produce proof of comprehensive travel insurance (e.g. valid insurance certificate) at immigration on arrival in the country, so you should carry your documentation with you.
Your travel insurance should cover against cancellation, curtailment, missed departure, delay, personal accident, death, medical and repatriation expenses (including the cost of emergency evacuation by helicopter or air ambulance should this be necessary), loss of baggage and valuables (see note below), personal liability and legal expenses. Note that passenger liability insurance covering the transportation that we hire, particularly in Third World countries, may be inadequate; it is therefore important that your insurance cover includes sufficient provision for your dependents in the event of an accident.
We recommend that you obtain travel insurance as soon as possible after booking your holiday to ensure you are protected right from the word go in the event of unexpected cancellation prior to departure due to accident or illness. You must inform your insurers of any pre-existing medical conditions (including those of persons not necessarily travelling but upon whom your holiday may depend) that may require treatment during a period of overseas travel or might cause you to cancel the trip.

Once you have arranged your insurance, please be sure to send us the following essential details: name and contact details of your insurance provider, your policy number, expiry date and your insurer's 24hr Emergency Assistance number.

Important Things to Note about Travel Insurance
Travel Insurance does not normally provide sufficient cover for valuable optical equipment, which is often best protected under your own household insurance policy. If in doubt ask your insurer for advice prior to travel.
Most travel insurance policies limit the amount of cover, typically up to a maximum tour cost of £5,000 per person. If the tour you are booking exceeds this amount, additional cover can usually be provided upon payment of additional premium. We recommend all travellers check their individual policy limit to ensure the full cost of their holiday is covered.
Arranging Your Insurance
Due to UK Government legislation, under Financial Services Authority (FSA) regulations, we are not allowed to offer or recommend travel related insurance to customers. Premiums can vary widely according to your age, needs, health, choice of destination and other factors, while many people nowadays have Annual Travel Insurance cover. For these reasons, we leave you free to shop around and pick your own policy, one that is best suited to your own individual needs.



SPECIAL DIETS & OTHER REQUESTS

We pass on all such requests to our ground agents, hotels and other suppliers, and do our best to ensure (but, of course, cannot guarantee) that your needs will be met. Please be sure to tell us about these (in as much detail as possible) at the time of booking, to allow good time to make the necessary arrangements.



BAGGAGE AND PACKING
Baggage rules and regulations vary between airlines. Most airlines have some restriction on the maximum amount of free checked (or hold) baggage allowance per person, typically one item per person with a weight limit of 20kgs-23kgs.
On a few tours, due to limited space in the vehicle or small aircraft used on domestic flights, there are further restrictions and the baggage allowance is lower. Our Travel Info sheets and Final Letter will contain further details but if you would like to know about these before booking, please contact us.
Our Final Letter will also include details (or an Information Bulletin) summarising the hand baggage guidelines for your tour. To keep abreast of any changes we recommend you visit the airline's own website prior to travel.


BINOCULARS, TELESCOPES & TRIPODS
We are frequently asked for advice about the best way to pack binoculars, telescopes and tripods on tour. Unless airline security demands otherwise, we recommend that you always pack optics in your hand luggage, indeed some people prefer to wear their binoculars around their neck.
Tripods however must be packed within your checked (hold) luggage. If it won't fit within your case or main bag (where it can be protected from damage by wrapping within clothing), rugged tripod cases can now be bought from specialist suppliers and are another way of solving the problem. However, keep in mind that some airlines/routes allow only one piece of free checked (hold) luggage per passenger and additional items of luggage may incur an excess baggage charge payable to the airline at check-in and at passengers' own expense.


WHAT TO TAKE
Our Travel Info webpages will include advice on what clothing and equipment to bring with you on tour.
We are sometimes asked whether tea- and coffee-making facilities are available at the hotels (usually yes in North America, Australia and New Zealand; usually no elsewhere in the world). Generally, we suggest bringing your own if you feel you need these on tour but remember to also pack an appropriate plug adaptor!


ANY QUESTIONS?
If you have any questions at any time, you'll find our office staff friendly, efficient, approachable - and just a phone call away, eager to assist you in every way.
Our office is generally open 09.30-17.30 hrs Mon-Fri, and can also be reached by email. In the event we are unable to take your call, please leave a message on our answerphone (24 hrs) and our office will contact you as soon as we can.
Our website contains a wealth of useful information and is, of course, available 24hrs a day!



THE NEW WILDWINGS WEBSITE
The all-new WildWings website has been designed to be straightforward and easy-to-use.
Here you can view all the information about our individual tours plus in many cases, Trip Reports from previous trips. You will also find a wealth of additional information, including our latest Tour Calendar plus Galleries of images for most WildWings tours.
Our Home page features Late Availability Tours - and is well worth checking daily for the latest WildWings News! Topics include recent tour sightings, money saving and other special offers and other announcements which we believe will be of interest to our clients.
Also on the Home page, you'll find our eNewsletter Sign Up. It is FREE, of course, and a great way to keep in touch with all things relating to WildWings. [If you no longer wish to receive our eNews, you can unsubscribe via the link at the foot of every eNewsletter.]