Derek Barber
Derek lives in Sussex where he works in conservation as a volunteer for the National Trust having previously spent many years employed in the airline industry. He has been an active birder since the late 1970s and has travelled extensively both privately and as a wildlife guide.
He is currently a member of the Sussex Ornithological Society Records Committee and enjoys completing field studies for the British Trust for Ornithology ('BTO') and leading local field trips.
Derek has also developed a keen interest in mammals, particularly whales and dolphins, training as a Marine Mammal Observer and, in the past, carried out survey work in the Bay of Biscay. He is also interested in moths, butterflies and dragonflies, leading and training volunteer groups at his place of work.
Derek is an experienced wildlife guide having led tours to countries including Brazil, Chile, West Papua, Uganda and Antarctica. His trips are always fun and he derives a huge amount of pleasure in sharing his passion for birds and other wildlife.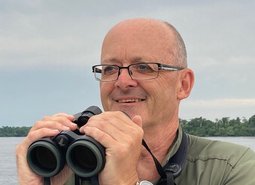 Derek Barber will be leading on the following tours...