John Wright
John has been passionate about wildlife all his life and since taking early retirement, now spends as much time as he can watching wildlife.  
He is the mammal recorder for the Essex Field Club and is also part of the volunteer team carrying out breeding bird surveys and winter wildfowl and wader counts on Wallasea Island RSPB reserve. 
He loves to travel in pursuit of wildlife guiding both mammal and bird tours and has visited 40 countries on five continents looking for mammals, birds and other wildlife.  His most memorable encounters have included Blue Whales, Polar Bears, Tigers, Snow Leopards, Clouded Leopards, Ethiopian Wolves, Hunting Dogs and Mountain Gorillas. 
Whatever the habitat, be it rainforests, mountains, the open ocean or his local patch in Essex, he is at his happiest and most content when close to nature.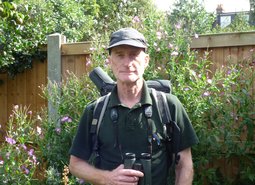 John Wright will be leading on the following tours...