Ewan Davies
Ewan has been obsessed with wildlife since a young age and first visited sub-Saharan Africa and South America in the 1980s before studying ecology and animal behaviour at university. Since then, his obsession with wildlife has taken him to 40 countries around the world including fifteen visits to Africa.
Ewan's main interest is African mammals, especially carnivores, and he particularly enjoys going out after dark to look for nocturnal species. As well as having travelled extensively in South Africa, Ewan is also involved in a project to develop ecotourism at the Sangha Lodge in the Central African Republic (a location he hopes to take WildWings clients to in the coming years) as well as research and conservation work on Pangolins.
He has seen 600 species of mammals on his travels including 108 carnivores and 23 species of cats.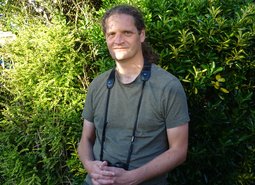 Ewan Davies will be leading on the following tours...