Antarctica, Falklands & South Georgia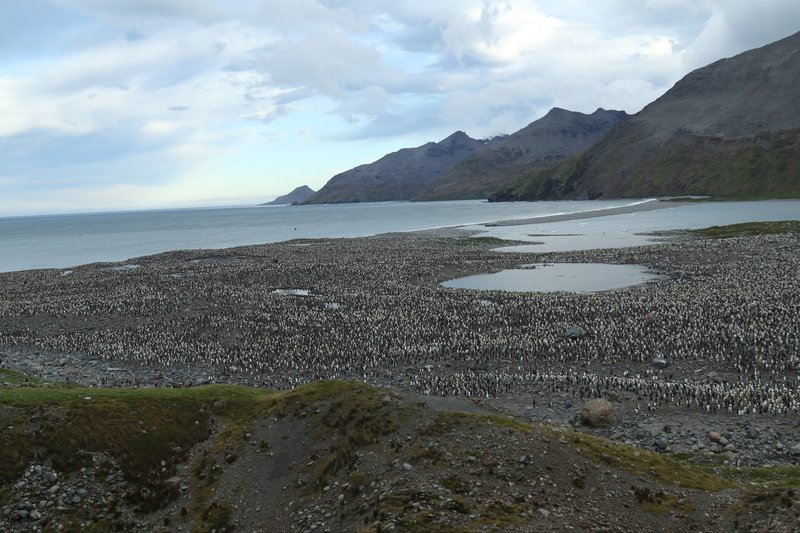 A visit to one of the large King Penguin colonies such as at St Andrew's Bay on South Georgia is a truly incredible experience
For those who can justify the time and expense, a trip that goes to the Falklands and South Georgia as well as Antarctica is an incredible experience as it combines the majesty of the snow and ice of the 'Great White Continent' with two very different but equally amazing subantarctic islands.
Indeed, for anyone keen on birds and wildlife, WildWings would rate these islands as more interesting for their natural history than the Antarctic Peninsula. With the possibility of seeing breeding albatrosses on the Falklands and vast King Penguin colonies at South Georgia, these are experiences you will not find further South and both are as awe inspiring as the penguins, ice and snow of the Peninsula.
Generally, the season for visiting this region begins in late October and runs until March and every month has its own special highlights. It is simply impossible to say that one period is better than another – the experiences are just different.
For details of the itineraries, ships, prices and dates we can offer please click here.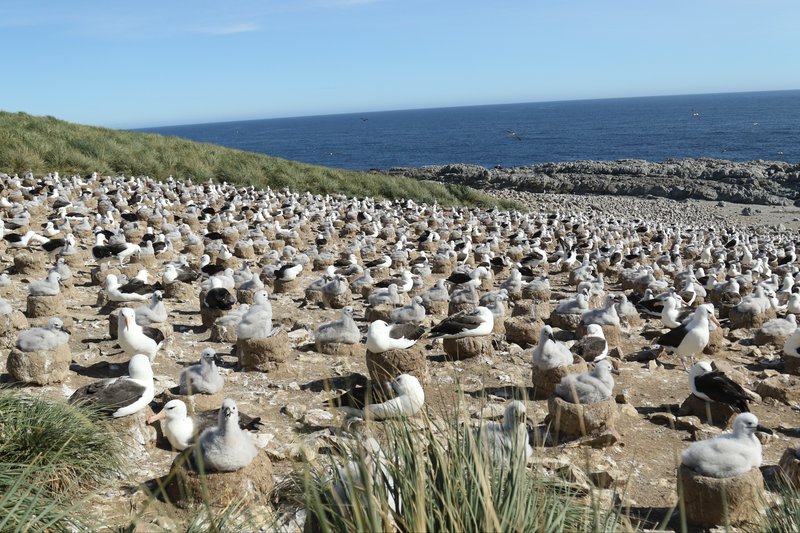 A large percentage of the world's Black-browed Albatrosses breed on the Falkland Islands and on many trips that visit these islands, there are chances to visit a colony although a visit to Steeple Jason (where this photo was taken) is only rarely attempted as benign sea conditions are required
Early in the season, the albatrosses will have started nesting on the Falkland Islands but the King Penguins will have plenty of fully grown chicks on South Georgia, whilst the Gentoo and Adelie Penguins of the Peninsula will also have only just begun egg laying. At this time of year, you are unlikely to see so many Humpback Whales in Antarctica as the numbers increase throughout the southern summer; indeed, these actually peaking after most of the expedition ships have ended their trips for the season.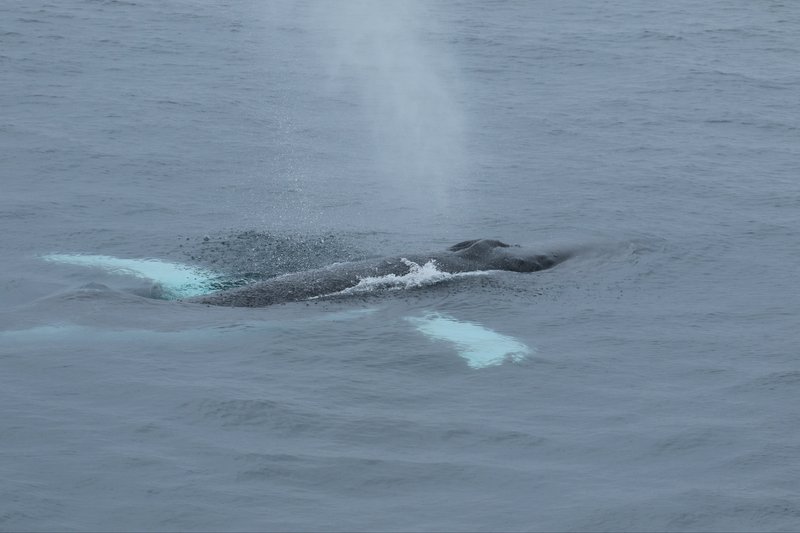 Whilst cruising around the Antarctic Peninsula, there are excellent chance of seeing Humpback Whales
By February, many of the penguins will have finished breeding in the Falklands, the chicks in the South Shetland Islands and Peninsula will be large but there will be fewer Southern Elephant and Antarctic Fur Seals in South Georgia.
As the exact itineraries are only determined a few months before each expedition and will also change on a day-to-day basis depending on the prevailing weather, it is impossible to be precise where you will be visiting in advance. The trips we recommend, however, will spend at least a day or two in the Falklands and then a minimum of three or four days in South Georgia.
Whilst it is usually possible to find shelter (to get ashore) in the Falklands, many of the best landing sites for wildlife on South Georgia are exposed so we believe going on a trip which spends as long as possible here will give you the best experience and a higher chance of visiting some of the truly magical highlights of this special island.
On the Falkland, possible landing sites include West Point Island where there is mixed colony of Black-browed Albatrosses and Rockhopper Penguins, Grave Cove where you could see Commerson's Dolphins and Gentoo and Magellanic Penguins and Carcass Island which one of the few islands where Cobb's Wren still survives.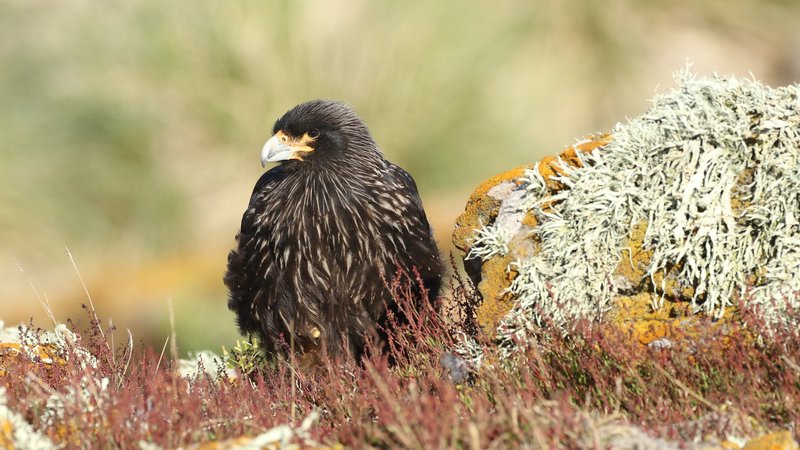 The Striated Caracara is now very rare and extremely difficult to see on mainland South America but is still numerous on the Falkland Islands
When visiting South Georgia, all vessels are required to make a stop at Grytviken where ship clearance takes place but there is an amazing museum and the grave of Ernest Shackleton to visit along with Southern Elephant Seals, Antarctic Fur Seals and small numbers of King Penguins. The most impressive penguin colonies are arguably at Salisbury Plain and St Andrew's Bay but there are plenty of other beaches which are also very special such as Gold Harbour and Stromness. Following the recent successful rat and mouse eradication project, the number of sites where one can find the endemic South Georgia Pintail and South Georgia Pipit have increased significantly so there are now good chances of finding both these species on your visit which was certainly far from guaranteed just a few years ago.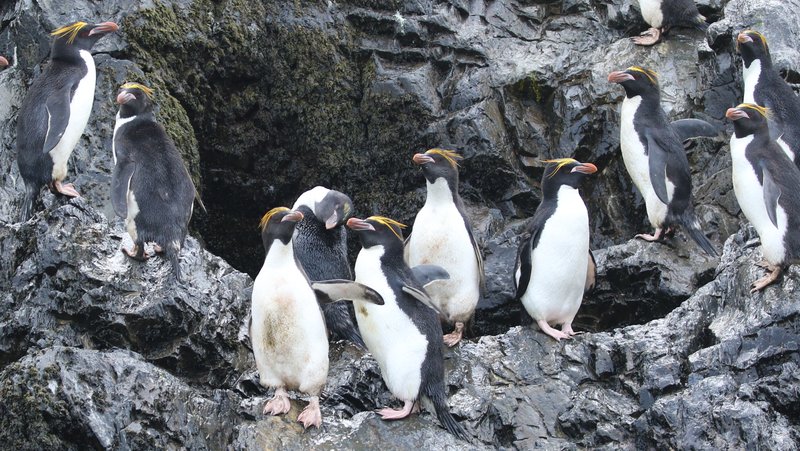 There are great chances of seeing Macaroni Penguins when visiting South Georgia with a colony at Cooper Bay being a popular place for a zodiac cruise to see this species
The transits between the Falklands and South Georgia and from there onwards to Antarctica (plus, of course, the Drake Passage when heading back to South America) provides a fantastic opportunity to see many species which you will not encounter around the islands or Antarctic Peninsula.
Although the Southern Ocean is notorious for the swells, storms and inclement sea conditions, in reality, you will be unfortunate to encounter really bad weather and your time at sea provides a fantastic opportunity to look for a great variety of seabirds.  Wandering, Northern Royal, Southern Royal, Black-browed, Grey-headed and Light-mantled Sooty Albatrosses are all possible, along with both Giant Petrels, Southern Fulmar, Cape, (Lesser) Snow, Soft-plumaged, Blue and White-chinned Petrels.  Amongst the smaller species, both Wilson's and Black-bellied Storm-petrels are regular, as are Antarctic, Slender-billed and Fairy Prions, and with perseverance and a degree of luck you could see something less common such as Sooty Albatross, Kerguelen Petrel, Great Shearwater or even an Emperor Penguin.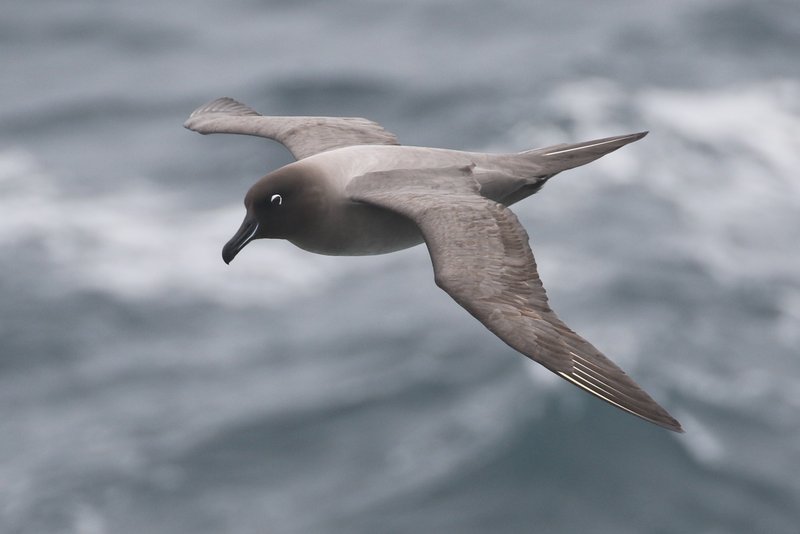 The sea-days between the Falkland Islands and South Georgia and again between there and the Antarctic Peninsula are excellent for a wide variety of seabirds with the gorgeous Light-mantled Sooty Albatross being one of the likely species
Whilst you are cruising close to land, Humpback and Antarctic Minke Whales as well as Orca (Killer Whales) are generally the most likely cetaceans, but a much wider variety of species are present out in the deeper water.  Once again, it is a case of being out on deck, 'putting in the hours' and hoping that luck is on your side but Blue, Fin, Southern Right and Sperm Whales are all possible, as are smaller species such as Arnoux's and Strap-toothed Beaked Whales and Hourglass Dolphin.  Indeed, we strongly recommend always having a camera to hand as photos are often the best way of identifying the trickier species.
It is almost impossible to put into words, the breath-taking scenery of Antarctica and even the most harden birder will find it an incredible experience.  Ice and snow will be a constant feature as your ship cruises between landing sites and on most occasions, you can expect two activities each day with these being a combination of landings and zodiac cruises.
Whilst every voyage is unique, most trips will offer you the opportunity to visit colonies of Chinstrap, Adelie and Gentoo Penguins. There are also excellent chances of Weddell and Crabeater Seals and as the days start to shorten, the chances of finding Leopard and Antarctic Fur Seals generally increases.  Almost irrespective of when you visit, you can expect to see Humpback Whales (with the highest numbers being at the end of the summer) and whilst wildlife can never be guaranteed, there are also opportunities to see Orca (Killer Whales) throughout the summer months.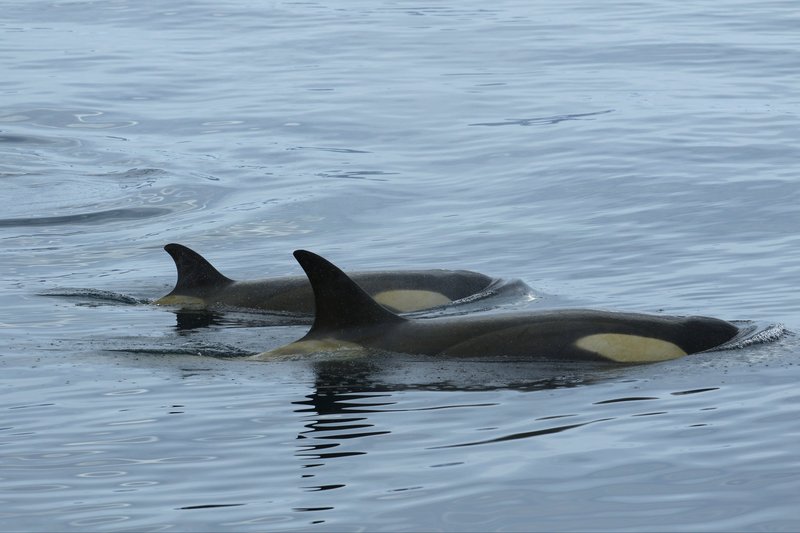 There are decent chances of seeing Orcas whilst cruising around the Antarctic Peninsula
As well as visiting the Antarctic Peninsula, most expeditions also make landings in the South Shetland Islands which have a slightly milder climate. For birders, a stop here is important to see Chinstrap Penguins as these are much less numerous around the Antarctic Peninsula itself and are only found at a handful of sites in South Georgia. The South Shetlands are also where some of the most popular landings are located with one of these being Deception Island, a volcano with an extraordinary flooded caldera which the expedition ships are able to sail inside.
With excellent birding on the outskirts of Ushuaia at both the Tierra del Fuego National Park and around the Martial Glacier which overlooks the town, we recommend allowing time before your voyage to visit these stunning locations.  Local specialities including Magellanic Woodpecker, White-throated Caracara and Magellanic Horned Owl can be found at the national park and the scree slopes and woodlands around the glacier offer chances for White-bellied Seedsnipe, as well as Thorn-tailed Rayadito, Austral Thrush and Andean Condor.
WildWings have been assisting clients in visiting Antarctica for almost 30 years and Chris Collins (WildWings Managing Director) has made over 50 trips to the "Great White Continent". He both leads trips as Expedition Leader and as wildlife guide to the Falklands, South Georgia and Antarctica so we are well place to advise you on the multitude of options which are available.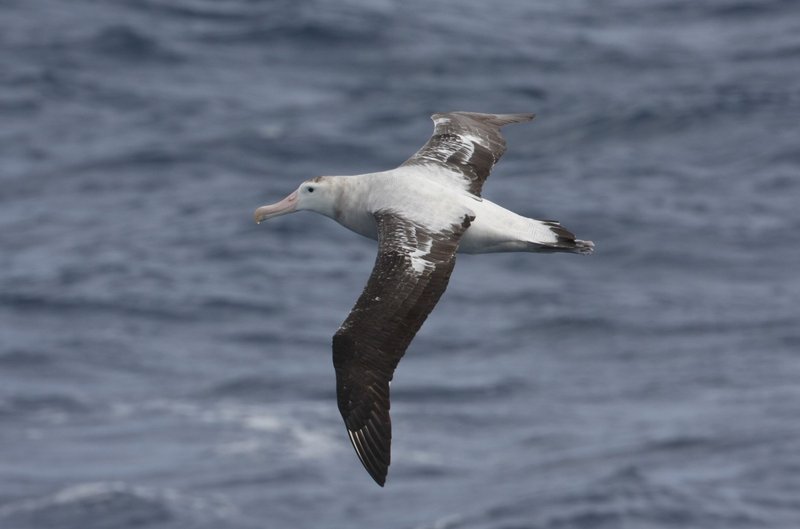 Wandering Albatross is seen regularly in the Drake Passage and on the transit between the Falklands and South Georgia and then again between there and the Antarctic Peninsula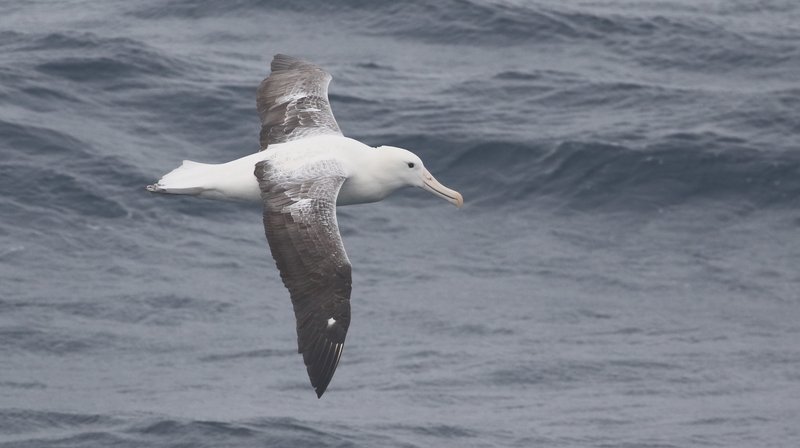 Although the majority of the world population of Southern Royal Albtrosses breed on Campbell Island, south of New Zealand, this species is seen on a not irregular basis in the northern part of the Drake Passage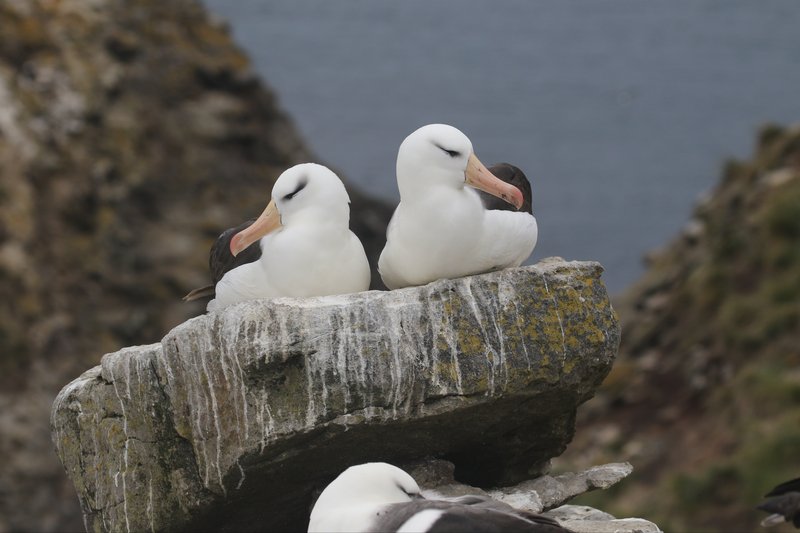 Black-browed Albatrosses typically pair for life and a trip to the Falkland Islands usually offers opportunities to visit a colony of these amazing birds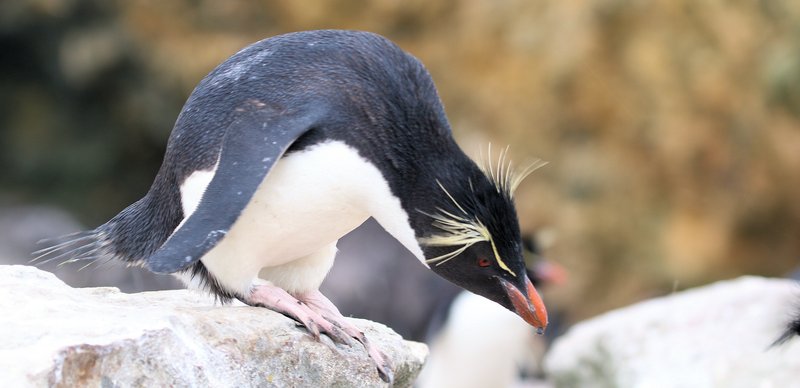 Rockhopper Penguins do occur around Tierra del Fuego but there are much higher chances of seeing them in the Falkland Islands. Whilst the very different looking "Northern Rockhopper", which for example can be found around Tristan da Cunha, is now widely accepted as a split, there is an increasing view that the "southern" and "eastern" Rockhoppers should also be treated in a similar way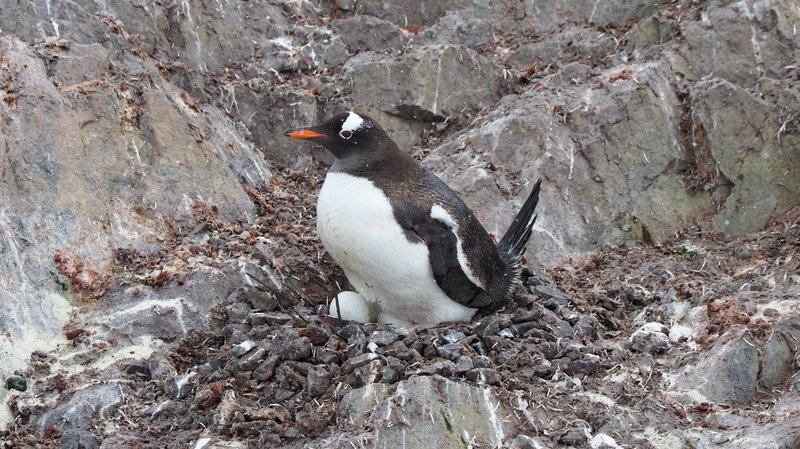 Gentoo Penguins can potentially be seen on the Falklands, South Georgia and around the Antarctic Peninsula. Recent genetic studies have suggested that this 'species' should be split into four with the proposal being that those breeding on the Falklands, South Georgia and Antarctic Peninsula should all be treated as different species with a fourth species in the southern Indian Ocean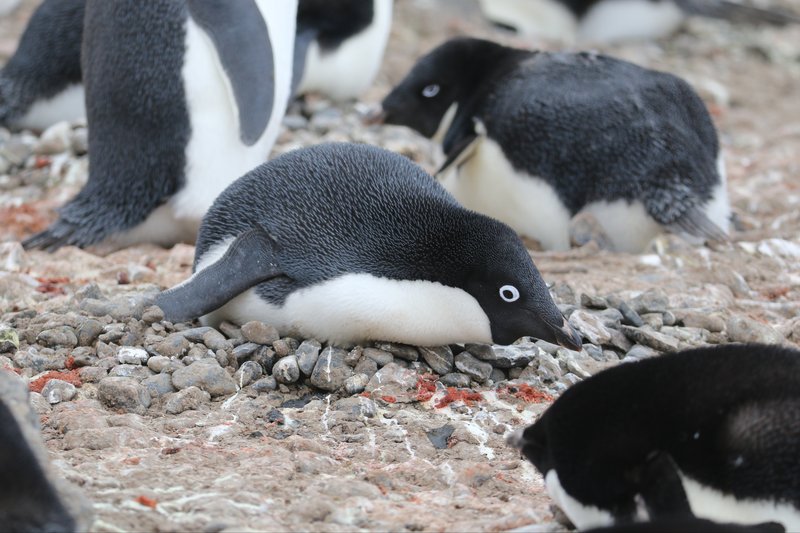 The Adelie Penguin is one of only two species of penguin which only breed in Antarctica. Whilst the numbers have declind around the Antarctic Peninsula in recent decades, there are still several places which are regularly visited by the expedition ships where there are great chances to see this species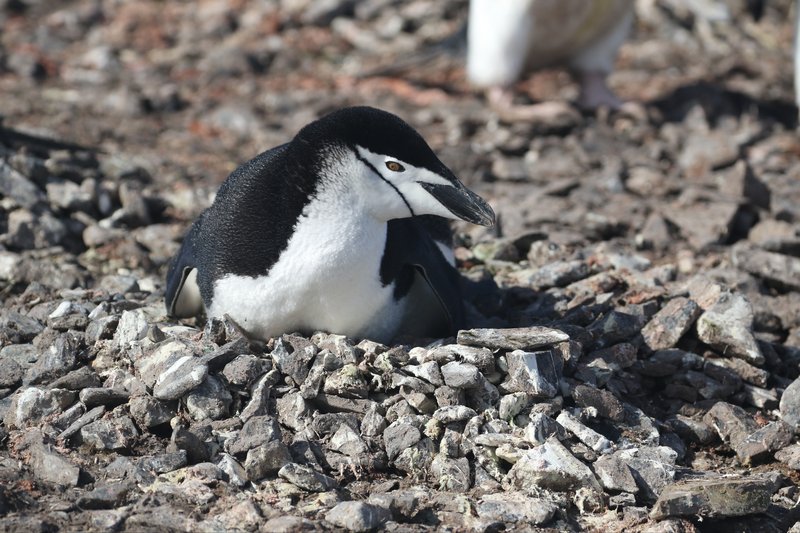 The appropriately named Chinstrap Penguin can occasionally be seen on South Georgia but the South Shetland Islands (which are generally visited on most expedition cruises and are a little to the north of the Antarctic Peninsula) are a great place to see this species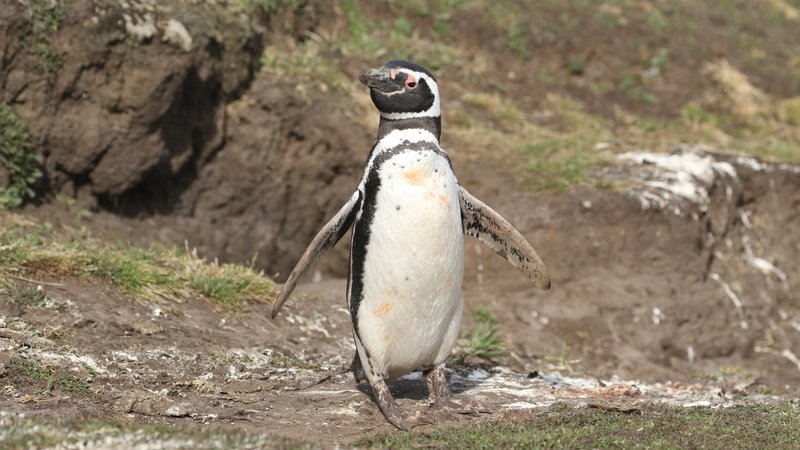 Magellanic Penguin can often be seen in the Falkland Islands and there are also good chances for seeing this species in the Beagle Channel at the beginning/end of an expedition cruise to Antarctica. For those who have time, there is also the option to visit a colony from Ushuaia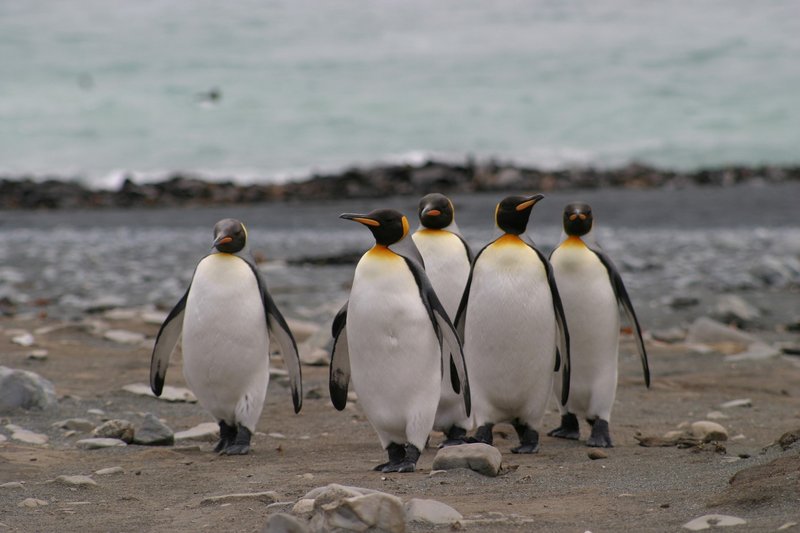 Although small numbers of King Penguins can be found on the Falkland Islands, there are several huge colonies on South Georgia and there are excellent opportunities for close encounters with this fantastic bird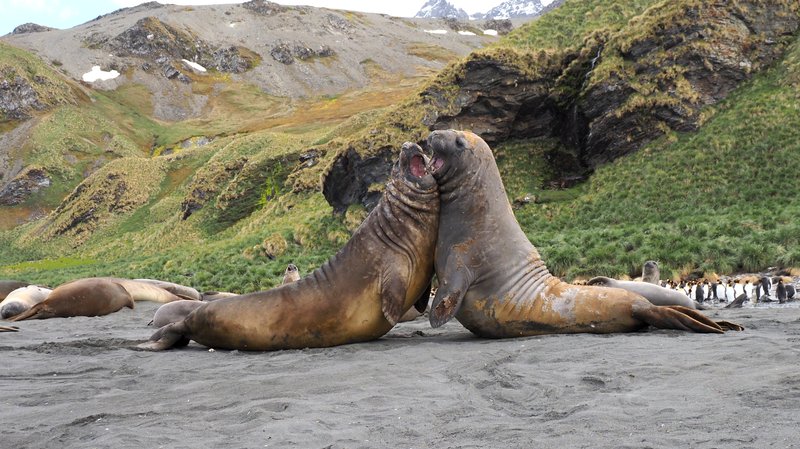 A visit to South Georgia in the first months of the season offers chances to see male Southern Elephant Seals fighting to be beachmaster and thus mate with all the females on that section of beach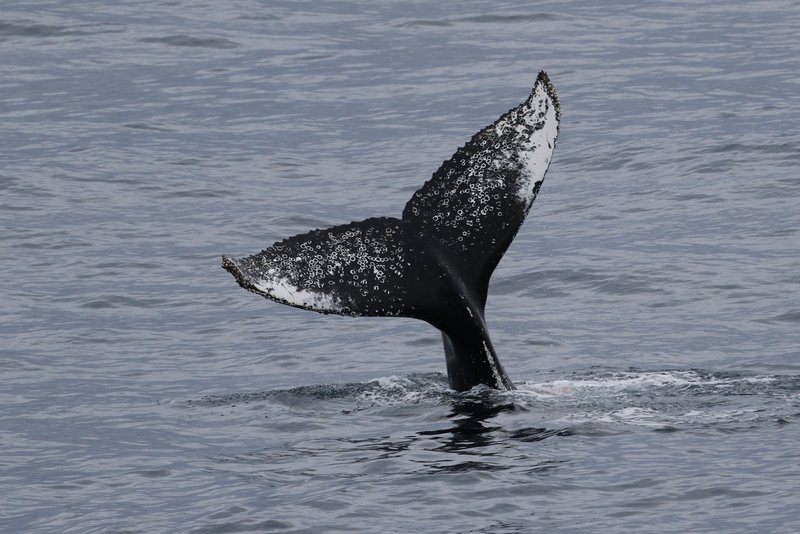 As the Antarctic season progresses, more and more Humpback Whales come to Antarctica to feed and there are great chances of some good encounters
The so called "Type D" Orca is extremely poorly known and has seemingly only ever been seen a few dozen times. It has a much smaller eye patch (please compare with the Type B above) and seems to be highly pelagic. This photo was taken in the Drake Passage where there are very occasional sightings of this rarely seen animal.
All photos © Chris Collins