Visiting the Arctic - an Introduction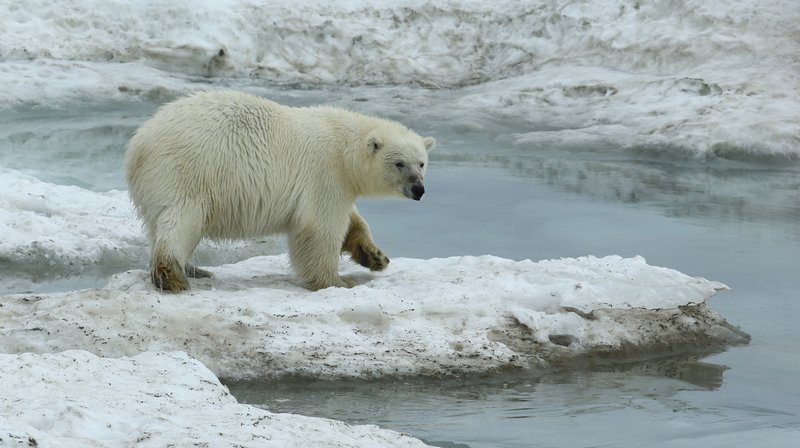 For many people visiting the Arctic, one of the goals is to see Polar Bears and there are a number of different options for doing this, however, there is much more to also see in this amazing part of our planet.

For anyone wanting to explore the Arctic, there are now many destinations which WildWings can assist you with visiting.
You will find a summary of the main options here with further detail available by following the relevant links below.
Spitsbergen
By far the most popular Arctic destination for those living in Western Europe with expedition voyages running throughout the Northern summer months from the small town of Longyearbyen. These cruises typically last about a week and as well as Polar Bears and a selection of auks (including Little Auk and Brunnich's Guillemot), other possibilities include Walrus, Beluga, a variety of whales, Ivory Gull, breeding geese, various waders and sea duck. Plenty of opportunities to see glaciers.
Little Auks breed in good numbers on Spitsbergen and a visit to a colony is one of the many options on an expedition cruise to this high Arctic archipelago
Some of the advantages of Spitsbergen include easy flight access from the UK, a wide variety of options and dates and lower prices compared with most other Arctic destinations.
Some more focussed cruises are offered most years, eg a dedicated trip to look for Bowhead Whales.
Please click here to visit our Spitsbergen / Svalbard pages.
One of our recommended operators, Oceanwide Expeditions, will be running a special voyage to look for Bowhead Whales in June 2024. For details of this trip, please click here.
Iceland
Iceland can be explored both by land and ship and in recent years has become a reasonably well known destination for looking for Blue Whales. Birdwise, the list of species is somewhat limited although there are some specialities (at least for the North Atlantic) such as opportunities to see Harlequin Duck.
Greenland
With three quarters of Greenland covered by the only ice sheet outside of Antarctica and a total population of less than 60,000 people, this huge island is not one which is regularly visited by those looking for wildlife, however, it is one of the few places where it is possible to look for the extraordinary Narwhal, the so called "unicorn of the sea". Some of the expedition ship operators offer trips which visit areas where there are chances of seeing this elusive species but there are probably other places in the Arctic where the odds of an encounter are somewhat higher.
Species which are much more likely to be seen on Greenland include Musk Ox, Arctic Hare and a selection of Arctic alcids, however, the range of species is more limited compared with the North Pacific.
Good opportunities for seeing icebergs which are more limited in the Arctic than in the Antarctic.
Arctic Canada
There are many options for exploring Arctic Canada both by land/air and on an expedition ship. For those interested in marine mammals, this vast area offers the best chances for Narwhals, although the trips which probably have the highest chances of good encounters involve camping on the edge of the sea ice and as a result of the challenging logistics are extremely expensive.
Other options for looking for Narwhals include an expedition cruise which visits Pond Inlet or Resolute Bay, although at some locations the local people continue to hunt these animals so good views are not common.
As well as Narwhals, Belugas can also be found in this region, along with the extraordinary Bowhead Whale which can not only break through sea ice which is several feet thick but is also known to live for upto 200 years.
Alaska
This huge US State can either be explored by land or ship and there is plenty of Arctic wildlife to be found. The Aleutian Islands including, for example, St Paul offer some great opportunities to see North Pacific auks although for those travelling from Europe, it is arguably easier to look for these species in the Russian Far East. A visit to Nome offers opportunities to look for Musk Ox and inland from this small town is where many birders go to look for breeding Bristle-thighed Curlew.
Nome is also the starting/end point for some expeditions which visit the Russian Far East with the ships sailing from there to Providenyia (on the Russian side) before, for example, heading on to Wrangel Island.
North Pole
Whilst a visit to the North Pole cannot really be described as a wildlife experience, there are chances for Polar Bears, auks etc at the beginning and end of these expeditions, however, for much of the voyage, wildlife sightings are likely to be rather limited.
Previously this trip was only available on a converted Russian icebreaker but it can now be done in luxury with a trip on the world's first purpose built expedition icebreaker, Le Commandant Charcot.
WildWings has been assisting clients with trips to the Arctic region for over 25 years and we only work with operators we would travel with ourselves. Please contact us for further information.