OCEANWIDE Expeditions - Classic Antarctica: Antarctic Peninsula and South Shetland Islands
ITINERARY
Day 1: Embark in Ushuaia and sail
Your voyage begins in the southernmost city on Earth, Ushuaia, in the very south of Argentina. Located in the province of Tierra del Fuego, the town is often referred to as "The End of the World".
During the afternoon, you will embark your expedition ship and in the evening sail down the highly scenic Beagle Channel. Fringed by snow-capped mountains, this will be the first opportunity to see a range of species with Black-browed Albatrosses, Southern Giant Petrels, South American Terns and Imperial Cormorants all likely. Approximately two hours after leaving Ushuaia, the ship will pass a colony of Magellanic Penguins (on the northern/Argentinian bank) so be sure to be out on deck at this point !!
Days 2-3: Drake Passage southbound
It generally takes two days to cross the 850 km wide Drake Passage and although this waterway is notorious for its rough seas and storms, in reality, you will be unfortunate to encounter really bad weather and the transit provides a perfect opportunity to look for a fantastic variety of seabirds.  Snowy (Wandering), Northern Royal, Southern Royal, Black-browed, Grey-headed and Light-mantled Sooty Albatrosses are all possible, along with both Giant Petrels, Southern Fulmar, as well as Cape, Snow, Soft-plumaged, Blue and White-chinned Petrels.
Amongst the smaller species, both Wilson's and Black-bellied Storm-petrels are regular, as are Antarctic Prions, and with perseverance and a degree of luck you could see something less common such as Antarctic or Grey Petrel, Great Shearwater or Rockhopper Penguin.
On the second day, the ship will cross the Antarctic Convergence which is where the water temperature drops dramatically over the course of just a few miles and you will have then truly arrived in Antarctica….
Day 4-7: Antarctic Peninsula
Antarctica truly is like nowhere else on Earth with dramatic ice-covered mountains, vast snowfields, innumerable glaciers, colossal icebergs and some fantastic wildlife and over the course of your visit, your Expedition Leader will do their best to ensure you have an incredible experience.
Whilst the number of species is limited, expect to have some amazing encounters with Gentoo Penguins at many of the landing sites you will visit and, if all goes to plan, hopefully also Adélie Penguins and Chinstrap Penguins.  Other birds should include Brown Skua, Antarctic Cormorant, Antarctic Tern and the bizarre-looking Snowy Sheathbill.
Other wildlife could include Humpback Whale, Antarctic Minke Whale, Crabeater Seal, Weddell Seal, and two apex predators, the Orca (Killer Whale) and Leopard Seal.
There are multiple options for landings and zodiac cruising and the sites you might visit include:
Neko Harbour – a popular landing site as this is one of relatively few places which are actually on the Antarctic Continent.  The glaciers and snow-capped mountains almost defy words and there are often Weddell Seals on the beach along with a large colony of Gentoo Penguins.
Paradise Bay – this stunning natural harbour is surrounded by icy peaks and vast glaciers and a zodiac cruise here can be a good opportunity to see breeding Antarctic Terns and Cape Petrels, whilst Antarctic Minke Whales and Humpback Whales can be seen out in the bay.
Danco Island – another island which has a good-sized colony of Gentoo Penguins with some of the birds nesting close to the summit of this 130m high island.
Petermann Island – if the ice conditions allow, it may be possible to sail through the highly scenic Lemaire Channel to visit Petermann Island which is home to a small colony of Adélie Penguins.
Port Lockroy – this former British research station is now a museum, post office and souvenir shop but there is also great wildlife to see with colonies of Gentoo Penguins and Antarctic Cormorants.
Wilhelmina Bay – this bay is a great place to find Humpback Whales and as the season progresses more and more come here to feast on the vast quantity of krill that lives here.
Day 8 South Shetland Islands
The South Shetland Islands are approximately 100 kms to the north of the Antarctic Peninsula and have a marginally milder climate with mosses, lichens and some flowering grasses, although there is still plenty of ice and snow.  For birders, a stop here is important to see Chinstrap Penguins, as these are much less numerous around the Antarctic Peninsula itself.
The South Shetlands are also where some of the most popular landings are located with one of these being Deception Island, a volcano with a huge flooded caldera which expedition ships are able to sail inside.
Other possible landing sites include Half Moon Island where there is a large colony of Chinstrap Penguins as well as breeding Antarctic Terns, Kelp Gulls and Wilson's Storm Petrels.  Weddell Seals often haul out here too and nearby is Cámara Base, an Argentine scientific research station.
Days 9-10: Drake Passage northbound
Named after the Elizabethan privateer, Sir Francis Drake, our northbound transit of the Drake Passage will be our final opportunity to look for seabirds and cetaceans.
Many of the seabirds we are likely to have already seen should be present and as we get closer to the tip of South America, we have some of our highest chances of species such as Southern and Northern Royal Albatrosses.
If the conditions are kind, there are also chances for a wide range of cetaceans and whilst Fin Whale is probably the most likely, Blue Whale, Southern Bottlenose Whale and Strap-toothed Beaked Whale can occur although considerable luck is needed to see any of these species.
At some point on day 9, the South American coastline will come into view and species such as South American Tern, Imperial Cormorant and Sooty Shearwater are once again likely to be amongst the more numerous species.
Day 11: Arrive back in Ushuaia and disembark
Every adventure must, unfortunately, eventually come to an end and during the night the ship is likely to go alongside at the wharf in Ushuaia and after breakfast you will be able to disembark after what will have been an incredible adventure.
All itineraries are for guidance only as the programme will depend on ice, weather, and wildlife conditions. Landings are subject to site availabilities, permissions, and environmental concerns per IAATO (the 'International Association of Antarctic Tour Operators') Regulations.
Official sailing plans and landing slots are scheduled with IAATO prior to the start of the season, but the Expedition Leader determines the final plan. Flexibility is paramount for all expedition cruises.
Please note that for all expedition cruises, WildWings is acting as agent for the ship operator, and you will need to sign up to their terms and conditions.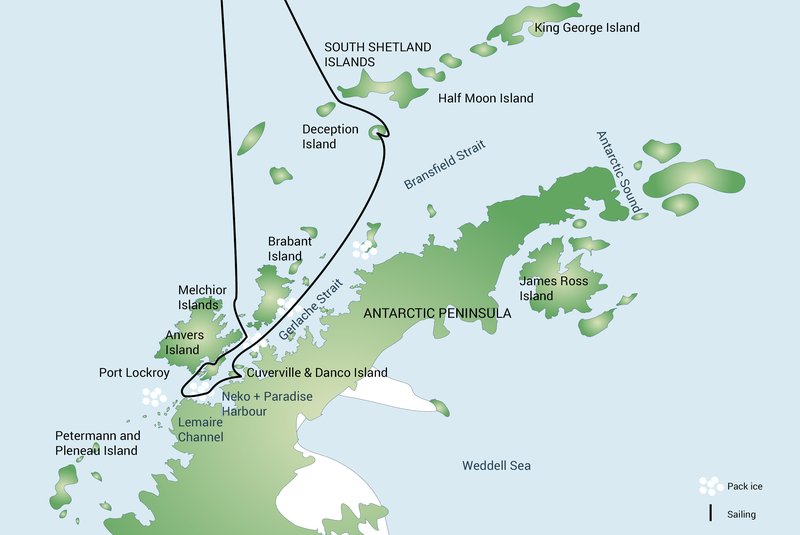 DEPARTURES: 2023-24
m/v Hondius
7 December - 17 December 2023 - prices from £6,500
22 January - 1 February 2024 - prices from £7,100
Ship details can be found here
Cabin details can be found here
m/v Ortelius
5 - 15 January 2024 - prices from £7,100
Ship details can be found here
Cabin details can be found here
m/v Plancius
3 - 13 February 2024 - prices from £7,100
Ship details can be found here
Cabin details can be found here
Includes:
All meals throughout the voyage aboard the ship including snacks, coffee and tea.
All shore excursions and activities throughout the voyage by Zodiac.
Program of lectures by noted naturalists and leadership by experienced expedition staff.
Free use of rubber boots and snowshoes.
Luggage transfer from pick-up point to the vessel on the day of embarkation, in Ushuaia.
Pre-scheduled group transfer from the vessel to the airport in Ushuaia (directly after disembarkation).
All miscellaneous service taxes and port charges throughout the programme.
Comprehensive pre-departure material.
Excludes:
Any airfare, whether on scheduled or charter flights.
Pre- and post-land arrangements.
Passport and visa expenses.
Government arrival and departure taxes.
Meals ashore.
Baggage, cancellation and personal insurance (which is strongly recommended).
Excess baggage charges and all items of a personal nature such as laundry, bar, beverage charges and telecommunication charges.
The customary gratuity at the end of the voyages for stewards and other service personnel aboard (guidelines will be provided).
Please contact the WildWings office for availability and to make a booking